Welcome to The Summit. Let's meet.
For handheld directory maps, special store savings and general visitor information about The Summit, please contact or visit: The Summit Guest Services Office.
Guest Services is located across from The Cheesecake Factory parking area. The office is in the breezeway between the stores Aveda and Francesca's.

Security is on-duty 24 hours. Contact security at (205) 281-1889 for general safety needs or an escort to your car.
Public Relations and Advertising
Press inquiries and media permission (required) for on-site interviews and photography may be directed to:
Amenities.
The perfect gift for all occasions.
The Summit gift card can be used throughout The Summit at all stores and restaurants, plus Summit 16 Movie Theater.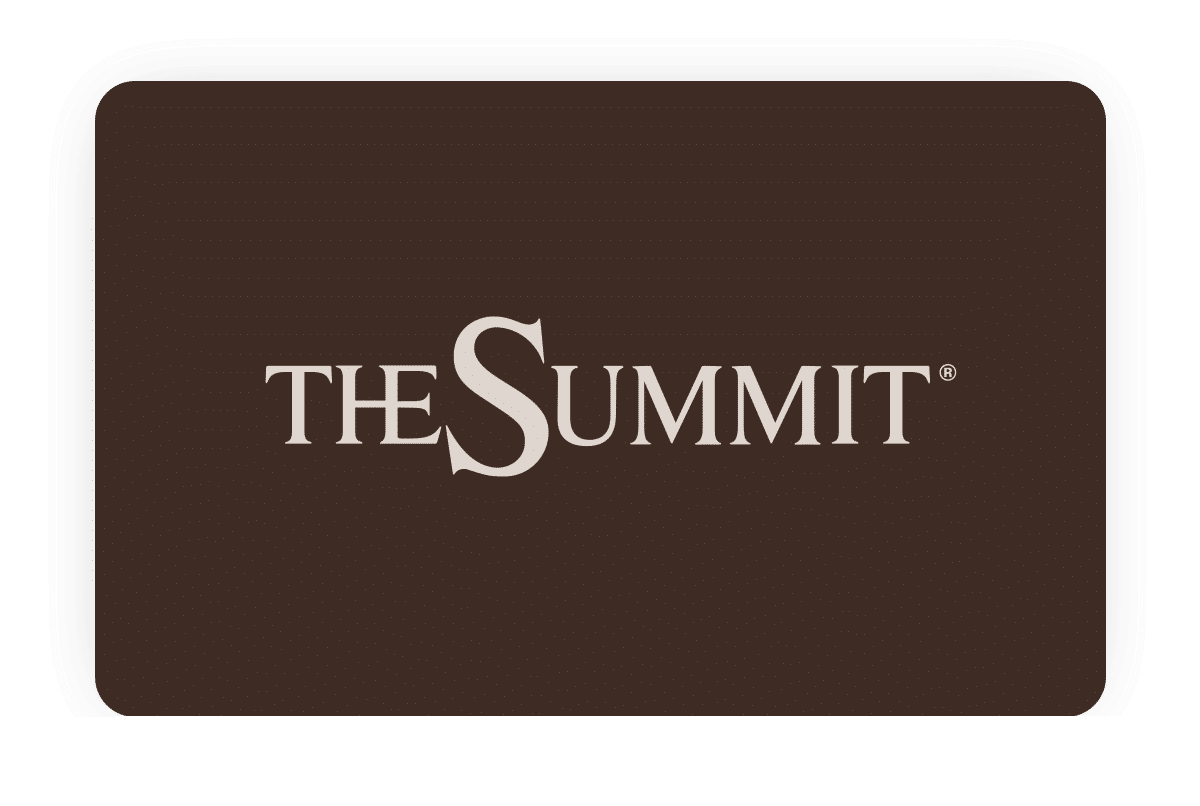 Choose between a Card for A Cause™ or the Original Card. The Summit's Card for A Cause program supports Juvenile Diabetes Research Foundation, American Cancer Society and American Heart Association. The Summit will donate a portion of each card's purchase value to the Alabama chapters of these organizations at no additional cost to you.
*A $4 per card activation fee will apply to
Gift Card purchases. This is a one-time fee when card
is purchased. It does not affect the use of the card.
terms and conditions
Guest Services Office
Monday–Friday: 8:30 am–5:30 pm
Saturday + Sunday: Closed
Located in the breezeway between Aveda & Francesca's Collections.
Purchase Online
Online option has been discontinued.
24-Hour Gift Card Kiosk
Kiosk has been discontinued.
The Summit Code of Conduct.
The Summit is private property and reserves the right to remove any individual(s), at any time, and for any period of time, if the individual(s) are deemed in The Summit's sole opinion, as undesirable, hazardous to the safety of others or themselves, or for violating any of the contained in the pdf below.

- - PARKING - -
Overnight parking is strictly prohibited. For over-sized vehicles that take up more than (1) parking space, please contact The Summit Security at (205) 281-1889 upon arrival for direction on where to park and unload passengers (this includes RV's, limousines, trailers, buses, etc.).

- - - - CANINE CODE OF CONDUCT - - - -
All dogs must be leashed or contained inside a carrier at all times. Leashes must be no longer than six feet, including retractable leashes.
Dogs must be under the direct control of their owners at all times.
No soliciting for the sale of any canines or pets.
Owners must be 18 years of age or older and by law, are responsible for the behavior of their dogs.
At no time is an owner permitted to leave his or her dog(s) unattended.
Owner is limited to a maximum of three dogs while on property.
Dogs are not permitted to enter any restaurants or food-related stores, unless they are service-oriented dogs.
Dogs are not permitted in any water-displays, fountains or lake.
Dog owners are required to pick up and properly dispose of the feces of their dogs.
Dogs are not permitted to urinate on buildings or hardscapes.
Dogs must be legally licensed in the jurisdictional area that they reside, have a current vaccination for rabies and wear visible dog license and tags.
Dog owners are required to comply with the laws, rules and regulations of the state of Alabama and local codes relating to dogs.
If at any time, management of The Summit determines that the behavior of a dog is causing disturbance to others or the dog is acting aggressively, the owner will be asked to remove his or her dog from the premises.
Owners are responsible for any injuries or damage caused by the dog(s) under their control. Neither The Summit nor Bayer Properties, L.L.C. ("Bayer") shall be liable for any injury or damage caused by any dog on property. To the maximum extent permitted by law, all dog owners hereby agree to indemnify, save harmless and release The Summit and Bayer from and against any and all liabilities in connection with loss of life, bodily injury, personal injury, theft and/or property damage arising out of their dogs being on property.
code of conduct (pdf)